Discover the New Audi TT at Audi North Houston
The new Audi TT provides drivers with the chance to truly enjoy their drive again. Tackle every road from behind the wheel of the TT, available for sale at Audi North Houston. Please browse our selection of new Audi TT models right here at our dealership in Houston, and rely on our exceptional team to help you bring it home.

Athletic Design
Since its debut, the Audi TT has turned many heads with its smooth lines and curving body. The Audi TT embodies a modern, elegant, and athletic vision both inside and out. The Audi TT strikes an impressive silhouette from its distinct front grille to its bold wheels and modern color. That classy feel continues in the cabin, which is clean-cut and modern. The interior is brimming with soft-touch and premium materials, creating a solid feel and luxurious atmosphere. When you pull up to pick up your date, you will easily turn heads.
Lively Performance
The Audi TT is highlighted by its great performance. Three main configurations are available for the Audi TT, each offering a different powertrain. The base TT offers the turbocharged 2.0L four-cylinder, which generates 228 horsepower. Next is the TTS, which offers the 2.0L four-cylinder that produces 288 horsepower. The third is the turbocharged 2.5L five-cylinder that generates 394 horsepower. Quattro all-wheel drive and a seven-speed dual-clutch automatic transmission are standard across each model.
The Woodlands drivers will enjoy the stable and competent ride in the Audi TT. Steering is quick, the Quattro all-wheel-drive system boasts strong road grip, and the brakes have confident stopping power. Overall, a seamless blend of power and handling results in a fun-to-drive car.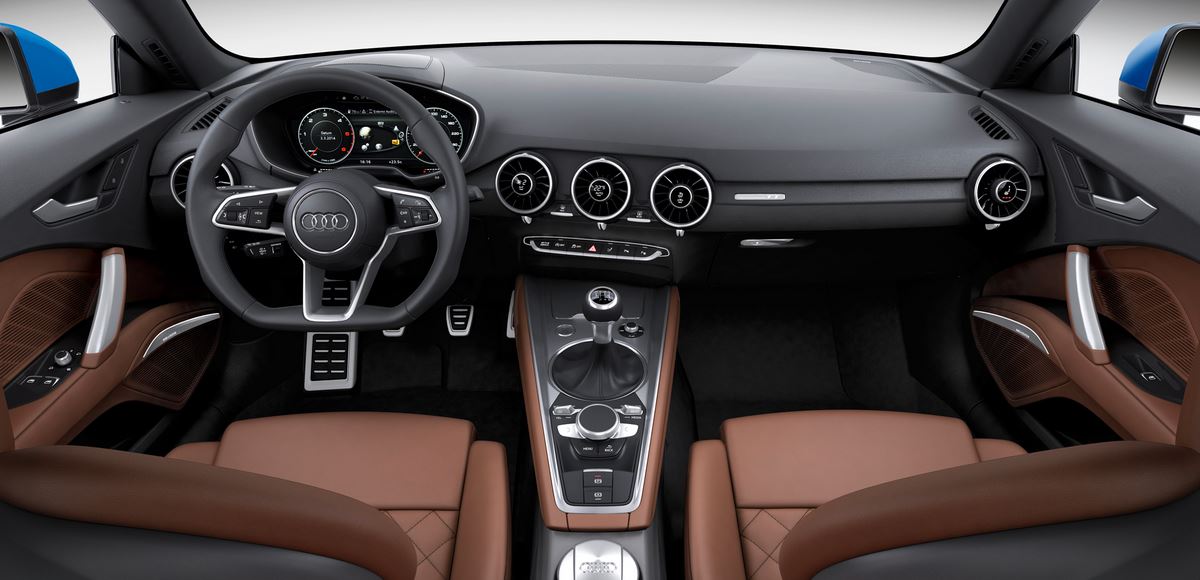 There are also several performance and appearance packages available for drivers. Additions such as the RS Dynamic package, RS OLED Taillights, 19-inch titanium wheels, and more are available for purchase, allowing for good customizability. Make the new Audi TT truly yours at Audi North Houston.
Intuitive Technology
Another highlight of the new Audi TT is the intuitive technology available. Many drivers may be surprised by the lack of a touch screen in the center stack. However, the infotainment system is available through the Audi Virtual Cockpit, which takes the place of the digital gauge cluster. This display is within your natural line of sight while driving, making it easy to use. Plus, the system features crisp graphics and swift responses to your input.
Safety Features
The Audi TT offers good safety technology while on the go. With front and rear parking sensors, you can also be alerted if an object is too close to your vehicle. Blind-spot monitoring makes it easy to see if there are any vehicles in your blind spots before you change lanes. Overall, you can seamlessly keep your peace of mind when you are behind the wheel of the Audi TT.
Trim Levels
The Audi TT features three main models, which are the following: the Audi TT, Audi TTS, and Audi TT RS. There are also two body styles available for the TT. A short breakdown of each model is below:
Audi TT: The entry-level Audi TT is a great choice for many drivers, as it offers plenty of technology and convenience features. It is also the only trim offered as either a convertible or coupe. The 228-horsepower engine is sufficient for most driving situations.
Audi TTS: The Audi TTS is the mid-level trim. It offers more horsepower, a restyled grille, an adaptive suspension, restyled bumpers, and 20-inch wheels.
Audi TT RS: The top-of-the-line Audi TT RS comes with the 394 horsepower turbocharged five-cylinder engine and a restyled front bumper. There is also a fixed-position rear wing.
Please Get in Touch with Us
Are you ready to bring the new Audi TT back to your Conroe home? Please get in touch with our excellent team. We are dedicated to helping you during every step of the process. You can rely on our friendly team for advice and help when you need it.