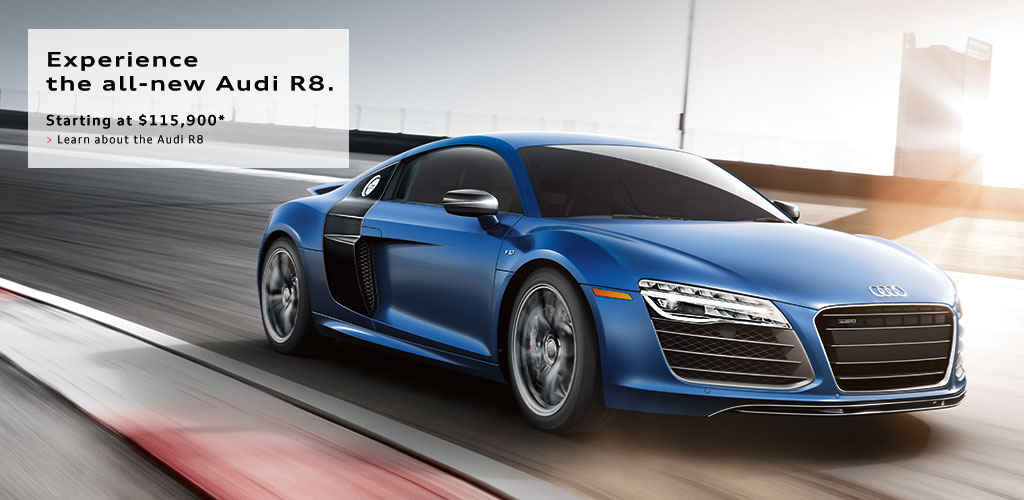 2018 Audi R8 Provides A Unique Cruising Experience for Houston Drivers

A massive amount of supercar standards and inspiring Audi stylistic elements craft the instant mood-lifter, the 2018 Audi R8. Escorting outstanding track performance and beauty into another year, the 2018 Audi R8 dwells closer to traveling at the speed of light, breaking boundaries not only in everyday motoring but racing dynamics. The 2018 Audi R8's elevated roadway presence is the envy of enthusiast and non-enthusiasts alike.
Sharp angles, sweeping roof lines and a diamond-cut jaw feed the Audi R8's aggressive circumstance. Though it likely could sell with its chiseled looks alone, it is the Audi R8's optimal performance capabilities defining its niche in Audi's luxury driven lineup.
The quickness of the Audi R8 begins with lightweight body cladding and extends to credible engine offerings. Its aerodynamic body combines with a 5.2-liter V10, unleashing upwards of 610 horsepower, to travel 0 to 60 mph in 3.2 seconds. Mingling with the legendary quattro®  system, the Audi R8 refuses to allow any elemental obstacles get in the way of providing thrills. 
Inside, the 2018 Audi R8 speaks to its brand's refined and innovative promise. Though it may not look it, the Audi R8's cabin is rather spacious, which when combined with premium materials and ergonomic seating, keeps the restless at ease. What is more, the Audi R8 is fluent in the latest gadgetry. Items like Audi virtual cockpit, Audi connect® and Bang & Olufsen® Sound System compliment all your driving desires, unlocking connective, entertaining and convenient possibilities in easy-to-use systems. 
If you want thrills, you can have them. Just join us here at Audi North Houston, where we currently have the 2018 Audi R8 available in our new Audi showroom. Just pay us a visit in Houston, a quick drive over from Dallas, Fort Worth, Grapevine, Houston, Plano, and San Antonio, to make it yours today.